#GivingTuesday 2017 – Housewarming Shower!
Mirror Ministries has joined #GivingTuesday, a global day of giving that harnesses the collective power of individuals, communities and organizations to encourage philanthropy and to celebrate generosity worldwide.
Occurring this year on November 29, #GivingTuesday is held annually on the Tuesday after Thanksgiving (in the U.S.) and the widely recognized shopping events Black Friday and Cyber Monday to kick-off the holiday giving season and inspire people to collaborate in improving their local communities and to give back in meaningful ways to the charities and causes they support.
Last year, Mirror Ministries participated in #GivingTuesday in connection with our #TakeItUpANotch campaign to raise funds for a part-time human trafficking advocate. That campaign raised $13,417, surpassing our goal of $8,500!
This year, we are collecting donations for a strong survivor who is moving into her first apartment. Join us as we empower her to take the next step on her journey to freedom.
Needs include:
Kitchen supplies
Bathroom supplies
Bedroom furniture
Living Room furniture
Linens
Gift cards to local stores
Donations for this housewarming shower can be dropped off at 1160 Tomich Ave, Richland. To arrange for pick-up, please contact Executive Director Tricia MacFarlan at tricia.macfarlan@mirror-ministries.org or 509.948.8792. Cash, check, or online donations are also accepted. Any monetary donations in excess of this client's needs will go toward serving other clients through our Survivor Services program.
#GivingTuesday was conceptualized by 92Y − a cultural center in New York City that, since 1874, has been bringing people together around its core values of community service and giving back − as a new way of linking individuals and causes to strengthen communities and encourage giving. In 2015, the fourth year of the movement, #GivingTuesday brought together over 45,000 partners in 71 countries and helped raise nearly $117 Million online in the US alone.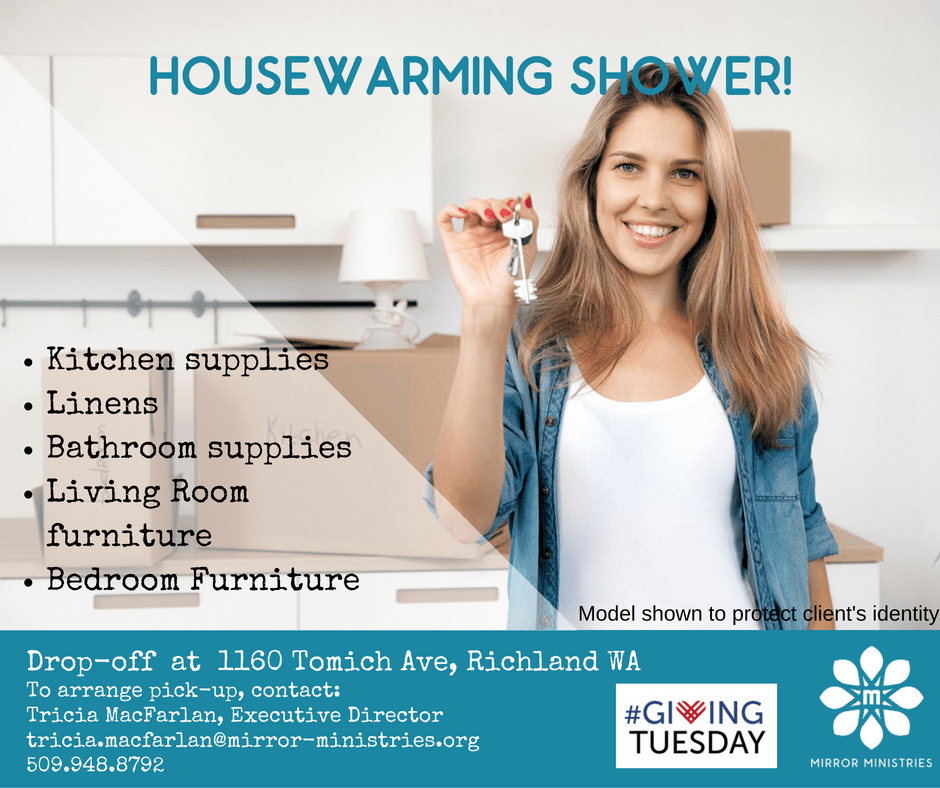 "We have been incredibly inspired by the generosity in time, efforts and ideas that have brought our concept for a worldwide movement into reality," said Henry Timms, founder of #GivingTuesday and executive director of 92Y. "As we embark on our fifth year of #GivingTuesday, we are encouraged by the early response from partners eager to continue making an impact in this global conversation."
Those who are interested in joining Mirror Ministries' #GivingTuesday initiative can drop off donations at the address above, arrange for pick-up, or donate online. For more details about the #GivingTuesday movement, visit the #GivingTuesday website, Facebook page or follow @GivingTues and the #GivingTuesday hashtag on social media.