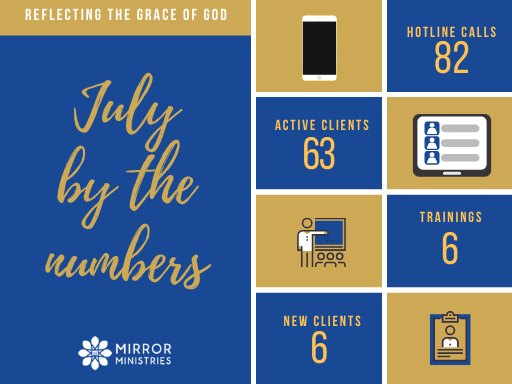 We have been offering online training sessions for sex trafficking awareness/prevention as well as volunteer trainings. We also celebrated World Day Against Trafficking in Persons with a week of prayer and fasting and a Facebook live prayer time. Our clients have gained employment, accessed mental health services, moved into stable housing, and gotten clean and sober.
By the end of July, 30 of our clients have been clean and sober for over 30 days, and 35 more clean and sober for over 90 days!
Eighteen survivors left the sex trade in July, and 42 others have been out of the sex trade for more than 60 days!
Project Intercept, our online outreach, continues, with 217 potential victims engaged, 44 responses, and 6 ongoing conversations.
If you missed our Unshaken week of prayer and fasting for World Day Against Trafficking, you can still download the prayer guide here and pray along with us with our Facebook live video here.