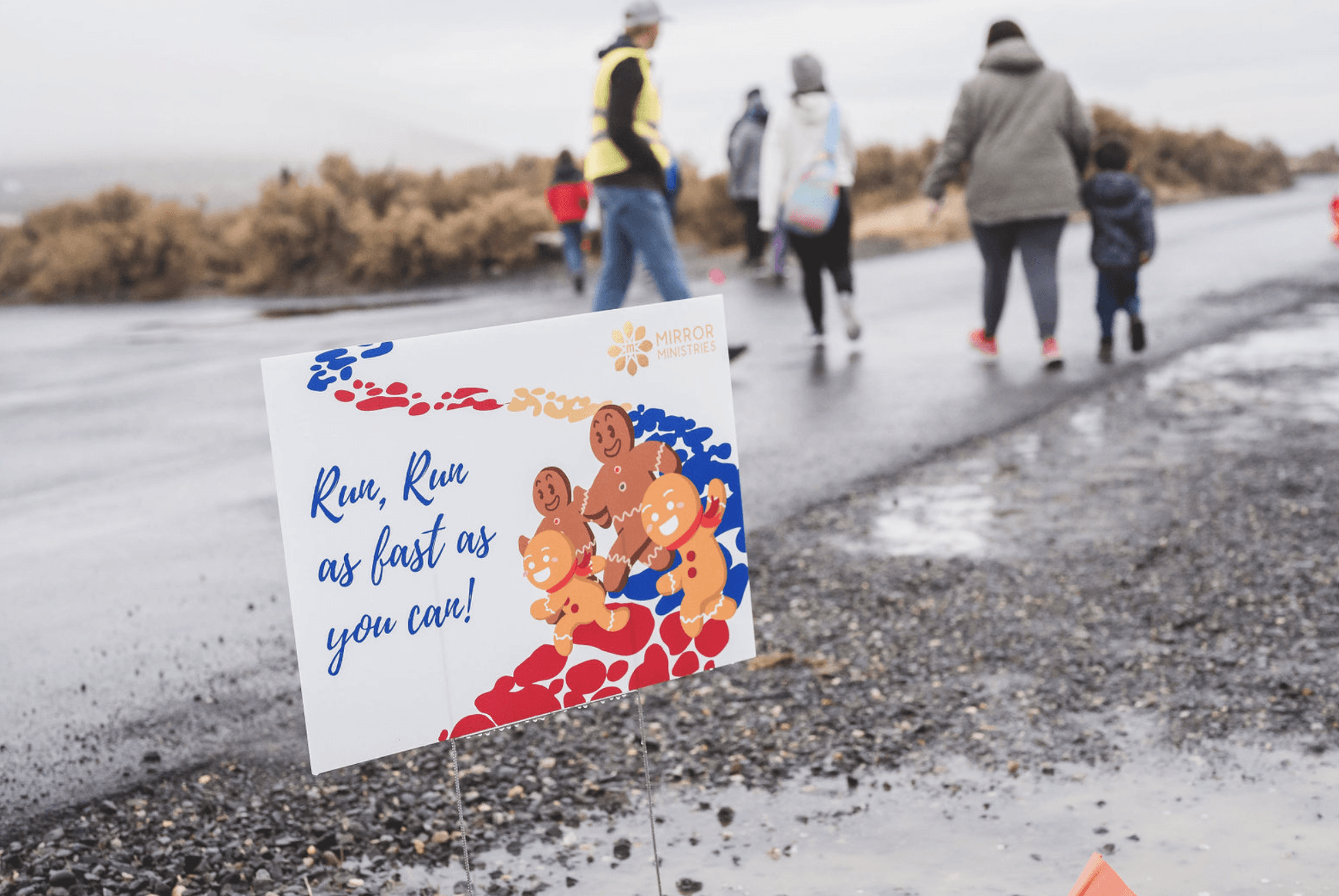 Imagine yourself on race day, driving into the Temple Baptist Church parking lot. The rain that's been coming down all morning is lifting. It's going to be a fantastic race! You park and head over to the shuttle waiting in the church parking lot that will transport you to Candy Mountain. The driver calls a greeting as you enter, and you settle down with several other runners. Excited chattering fills the bus as you take the quick, four-minute drive to the mountain. You step off the shuttle into a life-sized Candy Land game, where the Gingerbread Man greets you with an enthusiastic wave. Upbeat, candy-themed music blares from the speakers by the registration tent as you head down to the start line where the runners from your route gather to begin the race. You laugh with the other runners, talking about how fun the decorations and theme are.
And, you're off! You and your wave of sixty other runners head up the trail toward Candy Mountain. You've chosen the Chocolate Route, a 3.5-mile trail that will take you on a trip to the summit of the mountain. You are greeted on the trail by the charming and personable Lord Licorice, who stops to take a picture with one of the kids from your group. You turn a corner, and there's Gingerbread Tree! One of the station volunteers offers you water and a cookie with a smile as they stamp the gingerbread space on your Candy Land map, and you call, "Thank you!"
The trail starts to increase in elevation as you pass Peppermint Forest, Peanut Acres, and Lollipop Woods, collecting treats and smiles as you go. Along the trail, you read signs that teach you about tricky people and Mirror Ministries, and you're amazed at how many lives Mirror Ministries has impacted. Huffing and puffing from the climb, you see Chocolate Swamp and the Candy Mountain summit in the distance, and it gives you an extra burst of energy. You collect your chocolate treat and drink some refreshing water, and the station volunteers call out encouragement as you turn around to head back down the mountain. Gravity now helps you descend as you pass by other runners on their way up the trail. You finally make it back to Peppermint Forest and hang a right where the trail splits to loop back to the finish. Gumdrop Pass is the next station you encounter, and wow, they've really outdone themselves with decorations and costumes! You can hear the cheers and music as you turn the last corner back into the parking lot where Candy Castle and the finish line await. Queen Candy claps and cheers as you pick up speed down the last stretch of trail. Accomplishment and pride fill you as you slow to a halt, lungs burning as you breathe heavily from the exertion of running 3.5 miles on a challenging trail. A Mirror Ministries volunteer hands you a finisher medal with an enthusiastic, "Well done!"
There's hot chocolate, gingerbread cookies, and treats waiting for you, and you help yourself as you check out the Mirror Ministries table where the door prize winners are listed. Your bib number is up on the whiteboard. You've won a door prize! It's a tee shirt from Runner's Soul. After collecting your door prize, you chat with a representative from Mirror Ministries for a moment at the table, asking questions about volunteer opportunities and ways to get involved. The Candy Land Run is the first exposure you've had to the ministry, and you climb aboard the shuttle that will return you to your car feeling passionate about ways you can help fight trafficking.
What a FUN fundraiser! The Candy Land Run was a brilliant success. Our big "God goal" was 350 runners and we received over 360 entries into the race. New fun runs rarely exceed 150 runners in their first year, and we smashed that number to pieces in the first year of the Candy Land Run. Between sponsors, donations, merch sales, and race entries, we raised a net of over $21,000 and reached an entirely new community of people with the mission of Mirror Ministries. Our goal of raising funds and expanding our reach was met in abundance.
Race director Annika Brubaker and the entire Mirror Ministries team put their heart and soul into making the event memorable for all the runners. Their hard work, fun ideas, and enthusiasm made race day amazing. Some of the staff even dressed up as Candy Land characters on race day! Annika's leadership and race experience were invaluable, and she donated an incredible amount of time, effort, and supplies while coordinating the run. We had a fantastic group of volunteers from Mirror Ministries and the running community who helped with trail preparation, aid stations, registration, and other tasks on race day. We couldn't have done it without them!
We are excited for next year's run, where we can implement some of the feedback we got from the race and expand what was already an amazing success. Next year, there will be even more sweets, fun, education, and characters that will bring the CandyLand board game to life on Candy Mountain. Be on the lookout for next year's dates!
Thank YOU, our incredible team of donors and volunteers, for your prayers and support that made the Candy Land Run happen. Your support is what fuels us to bring hope and healing to local victims of sex trafficking.